UB Clock
Menu
Site Traffic
Banner
Цаг агаар
Шилдэг гишүүд


Admin
Мэдээ: 4626
Хүйс: Male
Сэтгэгдэл:38


Minsera
Мэдээ: 0
Хүйс: Female
Сэтгэгдэл:0


Huurd
Мэдээ: 0
Хүйс: Male
Сэтгэгдэл:0


ab
Мэдээ: 0
Хүйс: Male
Сэтгэгдэл:0


IDLY
Мэдээ: 0
Хүйс: Male
Сэтгэгдэл:0


hithurr
Мэдээ: 0
Хүйс: Male
Сэтгэгдэл:0


onoo
Мэдээ: 0
Хүйс: Female
Сэтгэгдэл:0


oronzai
Мэдээ: 0
Хүйс: Male
Сэтгэгдэл:0


esa
Мэдээ: 0
Хүйс: Male
Сэтгэгдэл:0
Statistics
---
Total online: 1
Guests: 1
Users: 0
Main » 2013 » February » 22 » Japanese, Chinese:: Team H – I just wanna have fun (Taiwan Version)
---
7:33 PM
Japanese, Chinese:: Team H – I just wanna have fun (Taiwan Version)


Team H – I just wanna have fun (Taiwan Version)

Release Date: 2013.02.20
Genre: Dance Pop
Language: Japanese, Chinese
Bit Rate: iTunes-M4A
Jang Keun Suk and his DJ friend Big Brother are back as Team H in their second album I Just Wanna Have Fun. The album's 12 tracks continue the group's unique party-ready blend of electronic, hip-hop and rock. Other than new songs like the titular I Just Wanna Have Fun, the album also includes remixes and remastered songs. Have some fun with Team H!
Track List:
01. I just wanna have fun
02. Feel the beat (中文版)
03. Party tonight feat. Stephanie
04. Rock and roll tonight
05. What is your name?
06. Liquor shot
07. Welcome to my world
08. Beautiful change
09. The Time (混音版)
10. Can't Stop (重新混音版)
11. Gotta Getcha (重新混音版)
12. Feel the Beat (韓文版)
Category:
K- Pop Album
|
Views:
676
|
|
Like box
Golomt Bank
Reklam
Голомт Банк
Playlist mp3
Flag Counter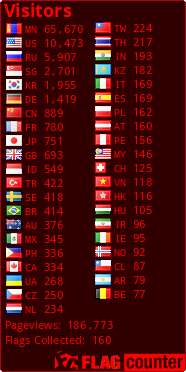 Panasonic
Family Life
...
Block title